Beaches and Watersports in St. Martin / Sint Maarten
---
Beaches
St. Maarten / St. Martin is celebrated for its many distinctive beaches. Net sites describing and presenting photos of the island's beaches include Best.com's Life is a Beach , Rusty Wingnut Multimedia's Beaches and Water Sports on Saint Martin Sint Maarten , and the St. Maarten Tourist Office's A Beach For Every Mile .

Two of our favorite beaches are Bikini Beach along Orient Bay, and Mullet Bay beach. Here's my amateur version of panorama views:


Above is the very long beach of Orient Bay.

Bikini Beach, restaurant and watersports is toward the west side in Orient Bay. Rent a cushion,
lounge chair and umbrella for $6.

---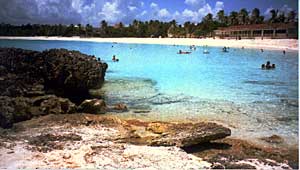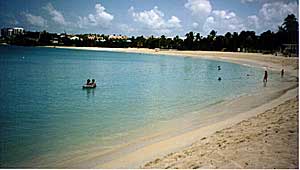 Mullet Bay beach is generally calm, with water so clear that you can watch fish swim at your feet.

I wish I had brought my camera to Pinel Island, just a few minutes boat ride from Little Key (west of Orient Bay). This small island even has BBQ style lunch available so you can enjoy a longer time relaxing at this paradise.


Watersports
St. Maarten / St. Martin watersport sites include Best.com's Day time activities page. Unfortunately, specific activity pages change frequently so more will be added only if associated with a group or gvt. site likely to remain long term on the web.
Activities desks are found at most of the larger resorts as well as in the shopping areas, with brochures describing many boat trips for:
Scuba, snorkel, and sightseeing. A sample of current brochures include the following. Generally, lunch, gear and instruction are included in snorkeling trips.
Anguilla by "Santino", the snorkeling, luncheon party boat. The BBQ (with snapper, ribs, & chicken) served at their beach dining room in Anguilla is excellent.
Aqua Mania, renting waverunners, parasailing, pedal boats, rental power boats, windsurfing, sun kats and bump'r rides. Scuba from single dive to a certification course, as well as snorkel trips, are offered.
The Edge, a high speed ferry to St. Barths and Saba, offers scuba to 26 protected sites.
Lambada, for a trip to uninhabited Prickly Pear, Anguilla or just a sunset cruise
Saba reef Divers, offering daily dives, dive/hotel packages, ocean kayaking, PADI instruction, and more using two custom dive boats with freshwater showers and a hang bar with Safeair at 15 feet for extra safety.
---
Semi-Submarine Experience. The Seaworld Explorer does not submerge, but has a lower deck below the surface of the water with large windows along each side. While seated, you observe a stunning array of exotic tropical fish, georgious living corals, and dangerous spotted and green Moray eels being hand fed by a diver.
---
Parasailing, Jet-Skiing, Windsurfing, Speedboating, Deep Sea Fishing.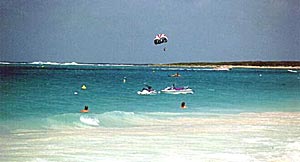 You get the idea.
It's all here in St. Martin / St. Maarten.



---